This is a big week for me. Tomorrow is my birthday and today is release day for my first book from Carina Press, Protective Custody. I'm also doing a blog tour and will be all over the blogoshere. If you'd like to find me and have a chance to win some of the prizes I am giving away, here's my schedule for the next couple of days: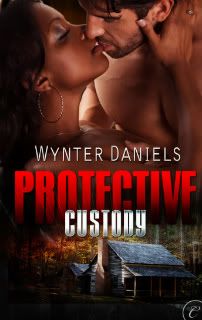 Witness to a murder, but no one will believe her…


Shocked by the brutal crime she witnesses through the window of her small office, Megan Jackson calls the police and is devastated when they question the truth of her story. With no body and no evidence of a crime, she's written off as a nutcase.

Megan suspects the killer saw her face. Terrified, she calls the only person she can trust—her ex-boyfriend and former police officer, Will McCoy.

Despite a devastating breakup, Will jumps at the chance to help the woman who broke his heart. When the killer ramps up the stakes, Will is forced to take her into hiding—where the passion they once shared reignites, deeper and hotter than ever. But can Will keep Megan alive long enough to win back her heart?
Text Copyright © 2011 by
Wynter Daniels
Cover Copyright
© 2011 by
Harlequin Enterprises
Limited
Permission to reproduce text granted by Harlequin Books S.A. Cover Art used by arrangement with Harlequin Enterprises Limited. All rights reserved. ® and ™ are trademarks owned by Harlequin Enterprises Limited or its affiliated companies, used under license.